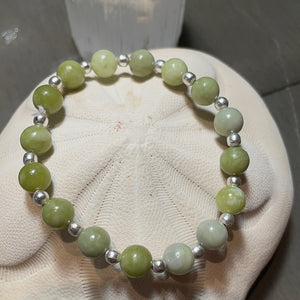 Gem-Designs-marcia
Beautiful Jade Bracelet
Regular price
$28.00
Sale price
$35.00
Unit price
per
Jade has been cherished for centuries for it's beautiful green shades. It's also believe to bring luck happiness good fortune and abundance.
It brings protection to the wearer and harmony in their life. Helps to bring friendship any repels negative thoughts. And looks so beautiful against your skin.
Jade stone may be the answer if you want to bring more love and balance into your heart and your life. Regardless of whether your stone is nephrite or jadeite, it has powerful, outward-flowing energies that promote healing, nurturing, replenishment, and emotional support that can help you tap into a higher love.
The growth-inspiring effects of jade are alluded to by the stone's most famous color, namely green. Light or dark, the shades remind us of mother earth and her healing energies, to which the stone has a strong connection. Wearing the stone can mingle those energies with your own energetic field, which makes it a fabulous option if you live in an urban environment and do not have easy access to natural spaces.
---