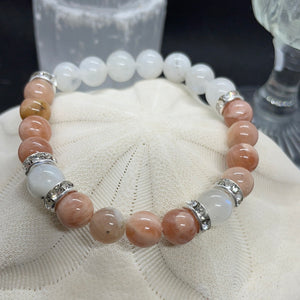 Gem designs
New Moon Power Bracelet
Regular price
$38.00
Sale price
$51.00
Unit price
per
Moonstone and Sunstone and a white candle on a new moon to set and empower your intentions. This is the best time to empower your intentions for your manifestations. 
With these two crystals your harnessing the power of the moon and the sun,  how wonderful is that. You are bringing together the feminine energy and the strength and confidence of the male energy. These stones work in harmony to help you to feel your best self.
your days will be filled with joy, happiness and balance. With greater confidence. 
---