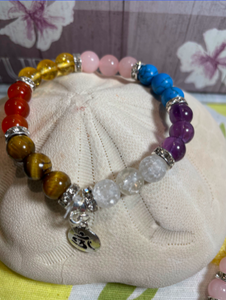 GemDesigns
Chakra Bracelet
Regular price
$24.00
$0.00
Unit price
per
Tigers eye root chakra, 
Carnelian  Sacral chakra
Citrine.  Solar plexis
Rose Quartz.  Heart chakra
Turquoise. Throat Chakra, 
Amethyst. Third eye
Crystal Quartz  crown chakra
Both of these support your chakras keeping it in good working order.
Crystal Blessing
Hold bracelets firmly in left hand and say" I bless these crystals to do their perfect work for me now and always.
It is done.
Now they are linked to you!
attention: Chakra stones are subject to change due to availability but be assured they are always the most powerful energy stones for healing chakras. As there are several different crystals that connect with each chakra. 
---