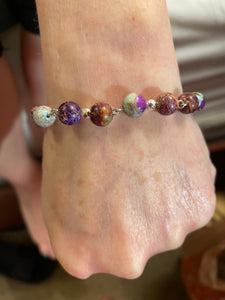 Gem-Designs-marcia
Imperial Jasper
Regular price
$38.00
$0.00
Unit price
per
the get it done stone.

This crystal supports your sacral and  root chakra and gives you incentive to get things done. It also supports your spiritual side. All are multicolored and comes in many different colors. No two are alike. It also helps connect to the Divine. 
Imperial Jasper imparts determination in all the areas of life. It helps one to complete various pursuits of life. It supports one during unnecessary conflict of life, stimulates the imagination, and transforms the ideas into action.
Imperial Jasper aids in quick thinking and promotes a well organizational abilities and completing the projects in time. It is useful in the prolonged illness and reenergizes the body. Spiritually, Imperial Jasper helps in connection to the spiritual world. It heals and balances the chakras. It is powerful healer of heart, solar plexus and sacral chakra.
these are made to order. 
---