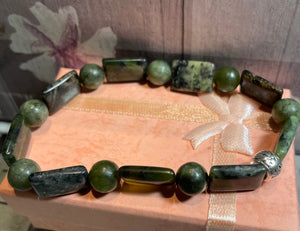 Gem designs
The Dream Stone, Jade
Regular price
$24.00
$0.00
Unit price
per
Authentic Chinese Jade
Jade has been sot after for hundreds of years. It is a crystal that draws harmony. 
Jade can be a powerful force for emotional healing on many levels. Its vibration is soothing and nurturing, making it especially good for addressing emotional issues such as lack of self-worth or confidence.
Jade also clears negativity from your aura and immediate environment, which is why many people keep a talisman or statuette made from jade on their desk or in their place of work.
If you are suffering emotional distress due to love issues, whether this is love of or for another or self-love, Jade can bring equilibrium and calm.
Jade is also known as a dream stone and can help you to understand the symbolism and messages from dreams.
---